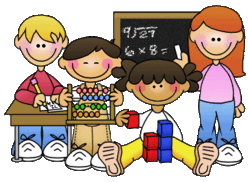 Hello there!! I am Savana Jennings, and I will be your child's Kindergarten teacher this school year! I am EXTREMELY excited to get this year started and know that we will have a BLESSED year! This will be my second year teaching Kindergarten at North Hopkins Elementary and my eighth year of teaching. My husband, Danny, and I have been married for 13 years, and we have three wonderful children, Jemma (9), Jadee (7), and Levi (3). I have lived in the Birthright community my entire life, graduated from Sulphur Springs High School in 2004 and graduated from TAMU-Commerce in 2007. When I'm not at school I enjoy spending time with my family outdoors!!
My teaching assistant is Ms. Laiken! She is such an asset to our classroom and helps our day run smoothly. I am grateful for all she does for me and our students!
Please be assured that we will be taking all precautions to keep your child safe and healthy this school year. Despite all of the new and different things taking place we know that this year will be the BEST YEAR YET!!!
Here are some IMPORTANT things you need to know:
1. My Contact Information
Email address: sjenning@northhopkins.net
School Phone: 903-945-2192
Our class Facebook page: Mrs. Jennings' 2020 - 2021 Kindergarten Class
My school webpage: northhopkins.net/sjennings
2. I will be posting pictures throughout the day on our class Facebook page!!! Before I can post a picture of your child I will need your consent. Please sign and return the Facebook consent page (included) with your child the FIRST day of school. Otherwise I will not be able to post pictures of your child.
3. You may drop off your child at 7:30 in the morning, NO EARLIER.
4. Car rider dismissal is at 3:30.
5. Bus rider dismissal is at 3:45.
6. Please have your child bring a water bottle to school. They will not be able to use the water fountains.
7. We eat snack in the afternoons together as a class. I ask that you send a class set of snack once a month. Snack ideas include crackers, fruit snacks, Cheez-Its, Rice Krispies, pretzels, Goldfish, etc.
8. Dress up days are OPTIONAL, but encouraged! Students will receive House points for wearing appropriate attire for dress up days!
Wednesday - College Day: wear any College shirt and/or accessories.

Thursday - House Day: our class House color is ORANGE this year so wear any color ORANGE shirt and/or accessories. Also, our school theme this year is "Viben and Thriven at NHE" so you can wear ANY TIE DYE shirt and/or accessories to receive House points.

Friday - Spirit Day: wear any Panther or RED shirt and/or accessories.
9. MEET THE TEACHER will be Virtual through Zoom on Monday, August 17th from 5:30 - 7.
Click on the link below for our Virtual Meet the Teacher:
https://us04web.zoom.us/j/6684940800?pwd=MU5RVkFUMXBmZCt6Wk0xYWJxUmtGQT09
Or go to zoom.com and type in the information below
Meeting ID: 668 494 0800
Passcode: KROCKS
If you haven't already, please join our Facebook group:
https://www.facebook.com/groups/2811346815814709
Mrs. Jennings' 2020 – 2021 Kindergarten Class
Our Class Schedule
This is the breakfast menu for August
This is the lunch menu for August